A Rental House Sitting Above a Karate Dojo in Quiet Fujigaoka
Grace House Fujigaoka is a rental house for men in Nagoya's relaxed suburb of Nagakute, a 5 minute walk to supermarkets and the nearest bus stop and a 15 minute walk from Fujigaoka Station on the Higashiyama Line. This house sits on the second floor atop a dojo for karate and kendo that residents may be able to join. There are four bedrooms, two western style rooms and two Japanese style rooms. In between them is a large living room and kitchen with some household appliances that overlooks a 77m2 (828') balcony. The peaceful location combined with convenience in travel make Grace House Fujigaoka a unique place very easy to call home.
Layout
Please click for a larger view of the layout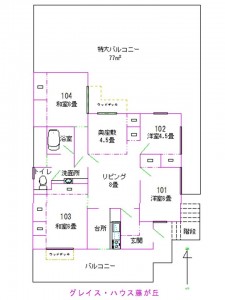 Photos
Please click for a larger view of photos
Detailed information
Name
Grace House Nagakute
Address
Aichi Prefecture, Nagakute City Kamikawahara 10-4(Google Map)
Transportation
Fujigaoka Station (Nagoya City Subway, Higashiyama Line), 12 minutes
Minamiharayama Bus Stop, 5 minutes
building
Concrete construction, 2 stories
Rent
130,000 Yen per month
Deposit&Fee
Deposit: 1 month rent. Fee: 1 month rent
Contract lerm
more than a year
Room for unit
4LDK: 2 Tatami rooms and 2 Western rooms
Living room, kitchen, face wash area, toilet, bathroom, Balcony(77m2,828′)
Car parking(you need extra fee)
Facilities
Gas stove, Large refrigerator, Rice cooker, microwave, TV, Dining table, Table for Tatami room, Washing machine
Nearby Shopping
Convenience Store
Drugstore
Friend Town Nagakute (Supermarket, 100yen shop, bookstore, drycleaning, etc) 3-5 minutes
Circle K, 5 minutes
Drug Sugiyama, 3 minutes
Application Form
Please contact us from contact form for question, reservation, booking.