Welcome to our big family!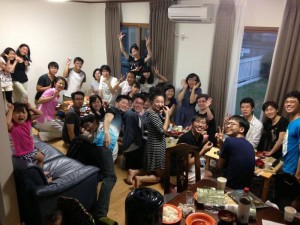 Grace House is home for people who share Christian values to enjoy living together in fellowship as well as walking together in faith. We also desire to welcome those who are still seeking a relationship with Christ.
In general in Japan the term guest houses refer to short term stays while share house refers to long term stays. Grace House is honored to offer both options.
Since 2011 Grace House has had open doors for guest house visitors including individuals and groups on missionary trips as well as church gatherings and retreats. In 2014 Grace House opened up our first share house. Altogether we have been blessed to welcome over 200 individuals and over 50 churches and mission groups so far to Grace House every year. Now we manage 5 houses in Nagoya and 5 around Tokyo. We look forward to welcoming many more to our family now and in the future.
Our Mission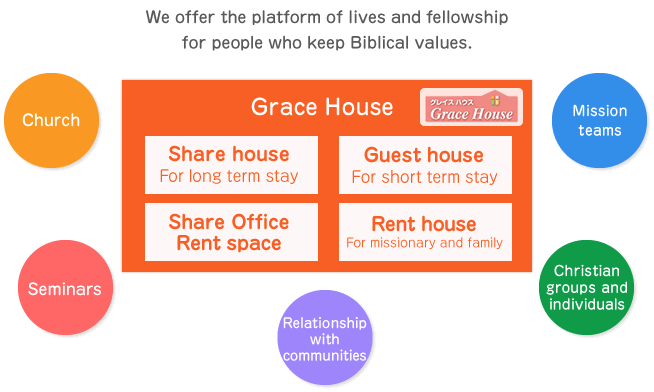 Our Mission that is connected to local churches.
Our purpose
To provide home and a plat form for various people who share Christian values to enjoy living together in fellowship, supporting each other as well as walking together in faith.
Our vision
We desire to be the blessing to local churches through providing accommodation for local believers, providing meeting and fellowship spaces and accepting mission teams of all over the world
Our ways to serve
We have share houses which are for long term residences, also guest houses for short visitors like mission trip teams, training camps and any other purposes. Also we provide conference spaces for churches, students ministry, alternative schools and so on.
Our Mission that is connected to local churches.

Goal
is to build up God's people through living together on the Biblical values and prepare them for His good works.
How good and pleasant it is
when God's people live together in unity!
For there the Lord bestows his blessing,
even life forevermore.(Psalm 133:1,3)
All Scripture is God-breathed and is useful for teaching, rebuking, correcting and training in righteousness, so that the servant of God may be thoroughly equipped for every good work. (2 Timothy 3:16,17)
Core value
is that we are one family in Christ although we are different on grown up environment, life styles, denominations, languages, nationalities.
Consequently, you are no longer foreigners and strangers, but fellow citizens with God's people and also members of his household, built on the foundation of the apostles and prophets, with Christ Jesus himself as the chief cornerstone. (Ephesians 2:19-20)
Vision
is to reveal Christ to each other and people around through loving each other.
everyone will know that you are my disciples, if you love one another. (John 13:35)
→Share House
→How to stay at Grace House
More about Grace House
Official name
グレイス・ハウス(Grace House)
Ministry Type
House ministry :  Share house / Guest houses / Rent house for Christian & Ministries
Main Office
615 OCC (Ochanomizu Christian Center), 2-1 Kandasurugadai, Chiyoda-ku, Tokyo, 〒101-0062
TEL: 03-6811-0851 FAX: 03-6811-0852(+81-3-6811-0851)
Alternate Contact Person
Kazue Ishihara, Kazune Yamada, Kay Ishibashi
House
1 Share house, 2 Guest house, 3 Partner house, 1 Rent house
Affiliated Bank
Mitsubishi UFJ Bank(0005) Yanagibashi Branch(224) Number: 0279557
Account holder:  GRACE CORPORATION
Present,
Past Residents
International VIP Club, Campus Crusade for Christ, KGK, Inspire Union, JIFH (Japan International Food for the Hungry), CBI, hi-ba, JCMN,
NC3 Church, JECA Church, ICBC, Mizuho Christ Church, Southern Baptist Federation
• At Grace House we are a non-denominational Christian organization. We welcome all comers equally.
• We kindly request guests to respect other guests from different backgrounds.
•We are not related to Jehovah's Witness, Mormon Church, Universal Church, or other organizations.