traditional Japanese home a 10 minute walk from Ikeshita Station in Nagoya!
Grace House Ikeshita is a traditional Japanese style home situated in a peaceful residential neighborhood in Chikusa, a 10 minute walk from Ikeshita Station.
The exterior is in the traditional Japanese style. All rooms are traditional Japanese style rooms with soft tatami floors. The front yard has traditional Japanese plants and the back yard is a traditional Japanese garden with pomegranate tree. The atmosphere is ideal for guests wishing for a comfortable taste of traditional Japan complete with modern conveniences.  Additionally, the spacious room layout and convenient location make Grace House Ikeshita an excellent place for meetings and gatherings for groups large or small
Room Information
Floor
Room
Open/full
Rate
Note
Room Style(Floor)
Room Size
Single
Story
3rooms
(Livingroom
doubles as
a bedroom)
On a reservation basis
7,000 yen per night
(plus 2,000yen per person after 2 people
Bath/
shower,
laundry,
dryer,
toilet,
kitchen,
television,
AC
Japanese style rooms (tatami)
Living:
8 tatami
(roughly
12.4m2,133.4'2)
Room A:
6 tatami
(roughly
9.3m2,100'2)
Room B:
6 tatami
(roughly
9.3m2,100'2)
Other Information
The day rate for meetings and gatherings is 4000 yen per day.
※During high season in summer(July-September) and winter
(November to March), an extra utility charge of 300 yen per day
applies to cover the expense of using air conditioning and/or heating utilities.
We apologize that this location does not have wifi internet access.
Please plan accordingly.
Housing Floorplan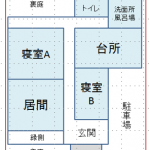 Detailed Data
House Name
Grace House Ikeshita
Location
Nagoya City Chikusa-ku Shinpo-cho 2-64 (Google Map)
Transportation
10 minutes from Ikeshita Station on the Higashiyama Line (subway)
Nearby
Conveniences
・Convenience store, 8 minute walk
・Supermarket (新鮮組 Shinsengumi) (Google Map)  3 minute walk
・Supermarket(ネクサスシンポ Nexus Shinpo) (Google Map) 5 minute walk
・Post office, 1 minute walk
Macimum Capacity (Typical)
Approximately 8 people per room.
Room Information
3 rooms.  Two standard bedrooms and the living room can convert into a bedroom.
Common Appliances and Facilities
Bath/shower, laundry, dryer, toilet, kitchen, television, AC
Notes
Parking space:Space for 1 car is available. It is enclosed in a roof and can fit up to a standard sedan size.
Room for a second car is only available at a nearby public parking lot with a cost of 300 yen per day.
※Please inquire for further details.
Images of Grace House Ikeshita.
Usage Requirements and Requests
The Neighborhood is in a residential area. Please be mindful of noise especially during evening time.
When departing, please turn off air conditioners, heaters, and room lights. Japan is generally a safe country but please also be mindful to lock doors when departing.
Use of Grace House for activities in violation of criminal and/or civil law is forbidden.
To Rent the Community Room and or a guest room
Please fill out the application form at the bottom of this page. We will contact you in reply as soon as we can.
Application Form
Please use this form to apply for the Community Room. We will reply as soon as possible.