Welcome to our big family!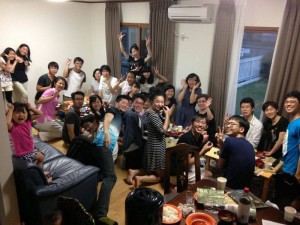 Grace House is home for people who share Christian values to enjoy living together in fellowship as well as walking together in faith. We also desire to welcome those who are still seeking a relationship with Christ.
In general in Japan the term guest houses refer to short term stays while share house refers to long term stays. Grace House is honored to offer both options. Since 2012 Grace House has had open doors for guest house visitors including individuals and groups on missionary trips as well as church gatherings and retreats. In 2014 Grace House opened up our first share house. Altogether we have been blessed to welcome over 200 individuals and over 20 churches and mission groups so far to Grace House and look forward to welcoming many more to our family now and in the future.
→Share House
→How to stay at Grace House
Kazue Ishihara, founder of Grace House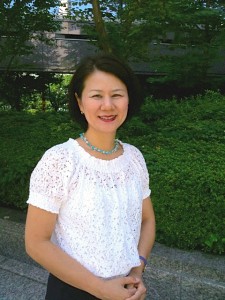 Hello, I am Kazue Ishihara, founder of Grace House. I have often been asked why I gave up my successful career in the corporate world that included living in Shanghai, Singapore, and Tokyo to return to Nagoya and open homes for Christians and people interested in Christianity. To be honest, at first there is little apparent connection. However below the surface there are a number of reasons why opening a home for others was the necessary next step in my life. Here are a few of them.
Especially in Japan there is a growing societal trend for people to live alone. Along this trend has come an increase in emotional health disorders. When I see reports of this in the news it reminds me of the suffering I felt so much while living abroad first in Singapore and later in Shanghai. I firmly believe that by providing a home for people to share time together and meals together allows us to create lasting bonds together. I strongly desire to bring people together. Helping to bring people together is something I feel called to and is possible through Grace House.
Only about one percent of Japanese are Christians and Japan can feel like a spiritual foreign country for many Japanese Christians. This is especially true for Japanese Christians who live alone. I experienced this while living in Singapore. Receiving the opportunity to live in a share house relieved part of my isolation because it allowed me to share my life with other people in a similar situation. At that point it became my dream to one day open a share house for people in Japan.
Another experience in Singapore similarly led me to open Grace House. One of my coworkers who was a Singapore local was especially kind to me. One day she invited her boss and me to her house to share the Gospel with us over dinner. I still remember the feeling of bliss of learning about God that night. The desire to pay forward my gratitude of receiving the Gospel is one of the founding pillars of Grace House. As I came to know the Lord over dinner, I hope many people come to faith while enjoying a meal and fellowship at Grace House.
Here in Japan as well I would like to open up my home but many Japanese homes are too small to host many people. For Grace House homes I specifically chose homes with large dining and common areas in order to ensure people feel comfortable inviting friends, coworkers, colleagues, and classmates without hesitation.
My hope is for Grace House to provide a haven for improving international relations, studying the Bible, and for strangers to grow into close friends with warmth and love like a family. From this beginning I dream that Grace House homes provide a lifestyle of hospitality both inward and outward to society.
The definition of grace in the spiritual sense is a blessing from God. I have received so much grace from God and desire to share this grace with others and allow others to share this grace as well through share houses in Japan. Also, many people receive grace in different ways. I would be overjoyed if people could use Grace House as a venue for sharing their blessings
With gratitude, prayers, and joy, Kazue Ishihara
The link below has a video of Kazue's video testimony (sorry, no subtitles yet)
http://japan.cgntv.net/newsub.asp?pid=2559&vid=53581
More about Grace House
Official name
グレイス・ハウス(Grace House)
Address
Area Code 460-012
Aichi Prefecture Nagoya City Naka-Ku Chiyoda 2-19-16
Chiyoda Building 3F Grace Center
Telephone. 052-265-5533 Fax. 052-265-7521
Founder and President
Kazue Ishihara
Vice President
Ken Ishibashi
Primary Activities
Share house (Grace House) management
promotion of non-denominational gathering events
Affiliated Bank
Mitsubishi UFJ
Present,
Past Residents
International VIP Club, Campus Crusade for Christ, KGK, Inspire Union, JIFH (Japan International Food for the Hungry), CBI, hi-ba, JCMN,
NC3 Church, JECA Church, ICBC, Mizuho Christ Church, Southern Baptist Federation
• At Grace House we are a non-denominational Christian organization. We welcome all comers equally.
• We kindly request guests to respect other guests from different backgrounds.
•We are not related to Jehovah's Witness, Mormon Church, Universal Church, or other organizations.